The members of the radar station were formed into relay teams to pull the radar screen as they walked on the walkway about the screen to create a rotating beam because the gearing mechanism that drove the screen froze in the sub zero-weather.
The early part of 1950 brought new personnel to the unit as well as to the base support functions. New Amn arriving at various times included Amn: Aldrich, Castimore, Cormier, Duhm, Emerson, Kitts, Fish, Nuckols, and Woods. As spring came upon the area, the job of gathering-up the fuel drums required a complete survey of every usable container to determine its value to be used as a "safe" container and returned to the barge that came in from our supply base, Kodiak NAB. Spring weather also brought with it the opportunity to go fishing around the area. King Salmon creek was an ideal location and every one tried out this favorite Alaskan sport of fishing for salmon/trout/herring/cod/crab. Visiting inspectors and survey groups appeared from Headquarters and began to access locations for relocation of the unit. An Officer Enslin was assigned to replace Officer Morris which took place in June 1950.
BROOKS Air Force Base, San Antonio, Texas 1950:
In July 1950 upon Officers' Morris return to Texas the temperature change was difficult to adjust to. A Major Carl J. Krula was the Commander and Captain Thomas G. Hayes was the Operations Officer. Expansion was the activity for the 136th Rad Com Scty Sqdrn. Officers Paxton, Njust, Rickert, Ridler and others were being trained and assigned units for deployment.
WHAT WAS IT LIKE? WHAT HAPPENED?
A deeper look into personnel willing to recall the diversity created in manning a Radio security function in the Air force as it got its commitment orders to go into it and devise a system that could insure the security of our own radio waves as utilized and to then under a separate system devise a group of unites associated with knowing what else was going in the world of electronics associated with units of other countries.
In a rapid review Officer Morris returned to the Headquarters 136th Rad Sec Sqdrn in July 1950 and acclimatized for a period. The next development in Headquarters was the expansion of Detachments into functioning units and getting equipments allocated and prepared for shipment; coupled with the training of operators to carry out the radio monitoring mission to which the units may be assigned upon deployment. Initially, the units were set-up on "rattle-snake hill" which is the space that once housed the Aerospace Medical Forces Headquarters prior to its becoming Brooks-City Base. A great part of the area is now a very lovely golf course. Changes were rather rapid and Officer Morris was sent to take charge of the Det "J", McClellan AFB, Sacramento, California, in the early fall of 1950.
A summary of items associated with the 136th Radio Security Detachment "J" located at McClellan Air Force Base, California 1950 to 51 and with units of other countries.
136th RSS – Det. "J"., McClellan AFB, California
Arriving in California was indeed a pleasure and a privilege. However, numerous problems with the detachment location and discipline was presented and had to be dealt with. A great number of airmen returning from Alaska were being reassigned to Det. J, the unit reflected sort of a family reunion and things began settle down. The relocation of the unit away from an entry-way to the Base for semi-trailer trucks was not a good radio reception area. Numerous alternatives were tested and to no avail, difficulties with property availability and priorities associated with the then build-up-for-the-Korean­police-action was difficult and produced nothing satisfactory for relocation. The Base Commander was M/Gen Junius W. Jones, West Point Class of 1913, and as an interest in our mission took on the privilege of advising Officer Morris of his responsibilities and requirements as an Officer to his unit, himself and the military community in general. I was advised of my position and summarily dismissed. OUCH! C'est la vie!
An Exercise/Special Operations took place in the late fall and winter of 1950 at an auxiliary Air Base, Indian Spring, Nevada. Members of Det. "J" were dispatched TDY over "Donner-Pass" and with a stop in Truckee before driving on down thru Nevada to the location. Unfortunately, snow hit the Pass as the first part of the convoy arrived and a rough time was spent as the storm delayed movement and the team enjoyed the rest stop in the "Fabled location." The mission was interesting and the testing at "YUCCA FLATS" gave everyone a serious look at weaponry being tested for the arsenal. The site location on the AFB was approximately 25+ miles from ground-zero with a mountain range between the unit and target; the shock wave required the Jamesway Hut used as a monitoring station to be evacuated due to structural implosion and explosive air currents. The plywood antenna mast all did a real Hula-Hula dance and not in synchronization, all survived. The Base control tower lost a few obstruction lights and two of our Airmen Bob Roehrs and Don Foresman climbed the framework and replace them, visitor courtesy.
Airman Don Vandegraft and I returned with the entire team via the southern route back to McClellan AFB when the mission was complete. A Capt Sandstrom came on board and Officer Morris was returned to Headquarters Brooks AFB, then recognized as the 136th Communications Security Squadron. Detachments were still being formed and locations were being selected. Back in December 1951 Officer Morris had been promoted to Captain and was now the Commander of Detachment 15, preparing for deployment. In June 1952 Officer Morris was transferred to the Projects Branch, Implementation Div under the DCS/Operations as the OIC.
This concludes the association of Officer Morris with the functions of the 136th CSS. Subsequent assignments were with the DCS/Operations and the development of the Radio Squadron Mobile units throughout the world.
To further expand on the many things happening to units and people a contact with
Officer Njust was made and here is what he had to say---"
Hello Bob Morris & Dick Bergman:
Glad to hear from you, Bob. Dick Bergman was an intercept operator who trained at Brooks at some point during the time span in the subject line 1950-52. And Dick, Bob was an officer who was the Opns Chief and Commander of the 136th Detachment at Daly City, Ca. (just south of San Francisco, Ca., certainly a "hardship tour"). [noted in error should read Det "J", McClellan AFB, Sacramento, California] He can fill you in on some of the details as yours address should print-out on the E-mail. Bob and I were both stationed at Mather AFB & Randolph AFB at times in our careers. Bob is also a retired Colonel and lives in San Antonio. And Bob, Dick went to and graduated from at least one University (G.I.Bill) and became a Registered Psychologist employed in that Profession until he "Retired". He lives in Wisconsin. Dick and I finished our USAFSS assignment at the 136th/36thCSS Detachment in Weisbaden (which was like Daly City, only colder and the Natives were mostly not "Gay").
I came to Brooks AFB to the 136th Comm. Scty. Sqdrn. in the middle of the summer 1950. I had returned ftom Tokyo, Japan early that year to an assignment as an NCOIC of a Flight Line Aircraft Maintenance Shop at Westover AFB, Chicopee Falls, Mass. I had volunteered to the newly established USAF Security Service and was (frankly) a bit dismayed when the Orders came thru four months later! I had been an E-5 (S/Sgt.) before starting Pilot training in 1943 and had accumulated another four years in Grade after (Reenlisting in July) 1946 with no likely prospects for advancement in sight (our Wing in Tokyo at Haneda Air Field had promoted only one Staff to Tech in the 37 months I was there). I had a "hip Pocket" Reserve Commission as a 2nd Lt. that I'd obtained when I was separated from the Army Air Corps in 1945.
Some people in the Pentagon decided in 1948, in the first of the year that followed the Sept 1947 establishment of the United States Air Force That the USAF would develop its own "Army style" Security Service. Some of the cadre of the new Air Force Command were transferred as volunteers from Ft. George Meade, Md., the Hqs. Of the Army Security Agency. USAFSS then had the same manning tables (T.O.&E.) as its Army "Parent." There was an identical Army unit to the 136th. The USAF was allowed to pick-up some of the Army's Overseas Company sized T.O.& E. Organizations and locations (minus the people). The 136th Detachment at Camp Peri (Freudenburg­
Kaseme), Dotzheim, Germany( on top a ridge above the Rhine River, near Wiesbaden), is a prime example. It was Det. 3, of the 136th.
The 136th CSS, at Brooks Field, was commanded by Major Barnhart. when we arrived on that very hot day in early August 1950. He was soon replaced by a more Senior Major; Carl Krula. Barnhart became the Squadron Exec. Capt Thomas Hayes was the Operations Officer and soon a newly arrived l/Lt. Thomas Townley became the Assistant OIC. I don't know for sure, if we had Operation Control of any of the transferable Army Security Detachments at that time. In any event, we soon established our own Training Detachment "Det 2", and a newly recalled Reserve Officer, Capt. Pershing was its Commander. His NCOIC was a T/Sgt Virgil Josleyn, who was, in turn, ably assisted by T/Sgt. Raymond Little. Other Officers and NCO's were detached from the Hdqtrs. of the 136th to Det 2, as they arrived. We were receiving Radio Operators and Mechanics from Kessler AFB, too.
I already had a Cryptographic Clearance(obtained during my Tokyo assignment). For some reason never explained, Security Service ran another Clearance investigation which kept me unassigned for the first two months at Brooks. I was just one of several enlisted man detailed to the Base MARS Station at that time. Then, one day I was ordered to report to M/Sgt. Little at Bldg 300. After two more months I was recalled to active duty as a 2/Lt. and assigned as the Operations Officer of Det 2. I expected to be re-assigned to some other unit because the NCO's I worked for were now working for me! But, that did not happen and it worked out ok. Bob Fenstermaker, who out-ranked me as a 2/1t. by a few days, and I, traded back and forth as the Detachment Commander whenever Bob was away at school. And, a couple of times newly arrived Captains were sent to the Detachment to gain a little experience before going abroad to one of the other(newer), Detachments.
Military life as a tenant Detachment on a 12th Air Force Base (that's right, USAFSS did not own the Base) was sometimes difficult for a very junior Commanding Officer.
We found it necessary to do much of the Building maintenance normally done by the Host Command Base Civil Engineer. Our people were some of the very best in the Air Force and they did a lot of work besides our Mission.
One of our own technical problems was the High Frequency Antenna "sets" furnished to the 136th"s Detachments. I was a licensed (Class A) Radio Amateur and, it occurred to me that what our Detachment needed to monitor the Frequency Spectrum between 3000 and 20,000 Kilocycles was a single omni-directional antenna to feed the 20, or so, Radio Receivers we used to listen to the Strategic Air Command and other Aircraft on our "training circuits." USAF used compact "Discone" antennas on top our Air Force aircraft control towers to talk with airplanes in the VHF spectrum (100 to 156 Mhz) why wouldn't it work to up-scale the VHF (l8"high and about 14" in diameter) discone design to work with a lower cut-off frequency of 3000Khz? I did the math and decided to make
use of an abandon light pole as the center support for an HF discone. We used a flat tinned metal garbage can lid screwed-down to the top of the wooden light pole. But first, we screwed a dozen, or so, appropriate lengths of discarded aluminum tubing across the top of the garbage can lid and soldered concentric circles of #20 copper "hook-up" wire to convert the assembly electrically, to a disc. Then, we used the same gauge (still surplus) hook-up wire to simulate a cone with its apex bonded with soldered sheet copper located one tenth of a "wave" below the horizontal disc. The cones numerous wires were spaced equally, in a descending circle at a sixty degree-angle to insulators connected to anchor pegs in the ground. We connected an RG8-U co-ax feed-line (center conductor soldered to the disc, braid soldered to the copper apex of the cone), ran the co-ax in to the Electronic Signal Distribution unit, measured the impedance in and out of the splitter to the "Radio Receivers" and found a perfect 52 ohms. We turned on the Receivers and found the signal to be 40 decibels higher than those from the Double-doublet Antenna Farm! We were in business.
The Headquarters USAFSS Engineers heard the news about our invention, made some measurements of performance and went away muttering that it shouldn't work. Twelve years after, I happened by a USAFSS Antenna Site at Clark AFB in the Philippines and there, in plain sight was "MY" H. F. Discone, obviously constructed at no small expense by a Commercial Firm. I stopped by the organization for an address and later sent them a picture of our "first-in-the-Air-Force (1951) antenna".
Life for our "troops" was better, financially, in San Antonio than anywhere else I've been stationed. That is, if you didn't mind sharing your home (on or off base) with a remarkable variety of insects! We did mind, so we bought a brand new "Spartan Royal Mansion" Trailer Home (33 '9" long). The Spartan was an all aluminum mobile home and we lived in and enjoyed it for 10 years (minus a tour in Europe). I'll look for my 201 file and if I find it, I'll send more info on the 136th,s early years --- Carroll Njust.
A note from Fred Wagner:
04/04/06
One item of interest. Did you know that the Alaskan
Det. had a still setup in their dayroom. I thought it
was for self-use but I learned from a veteran who made
one of the reunions and then passed away that the person
who set up the still was using it as a money-making
enterprise. But his buddies found out where he was
storing the finished product and drank it up so I
don't think he ever made anything from the enterprise.
It is interesting to note that it became so
commonplace that when Gen Lynn visited the Det. no one
thought to take it down. Gen Lynn sniffed the odor
and suggest something to improve the brew but did not
make a big deal about it.
EPILOGUE:
A reunion in 1998, Reno, Nevada was attended by several of those still with us and had also served as members of Detachment" J", McClellan Air Force Base, Sacramento, California. A second gathering occurred in 1999, St Louis, Missouri. Officer Morris had served as Commander of Det. "J" in 1952 prior to Officer Sandstrom, Robert G., assuming Command.
Pictures are attached showing the area of Detachment "A", the landscape and some of its facilities.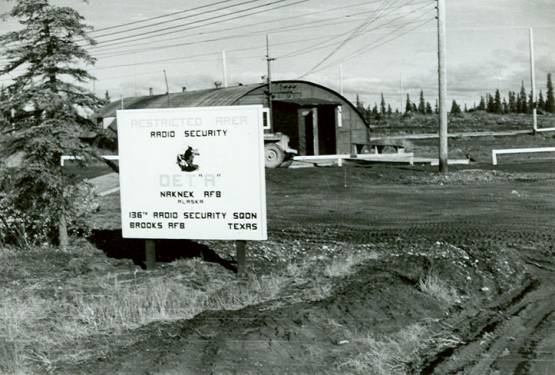 Operations Building and Headquarters
Det. "A" 136th Radio Security Squadron
1949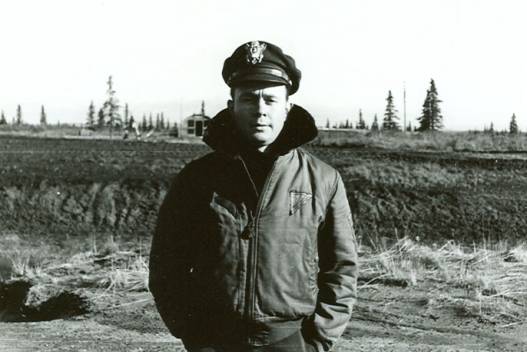 1/Lt Robert E. Morris
August 1949
Naknek Air Base, Alaska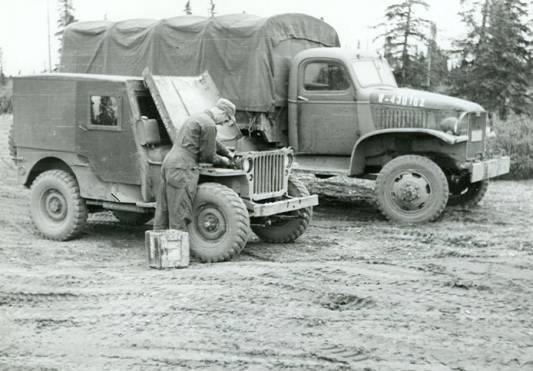 Sgt. Vincent Roduit performing battery maintainance on jeep
1949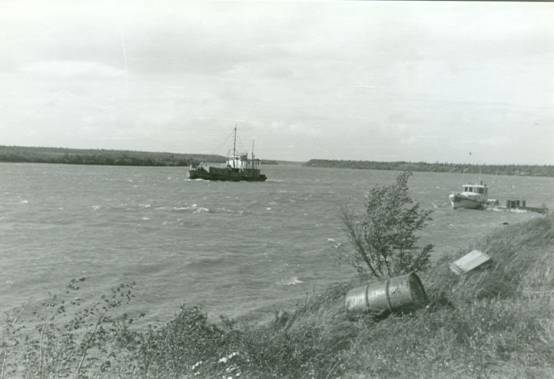 Coastal tugboat on Naknek river used to bring the fuel barge to
Naknek each spring. 1949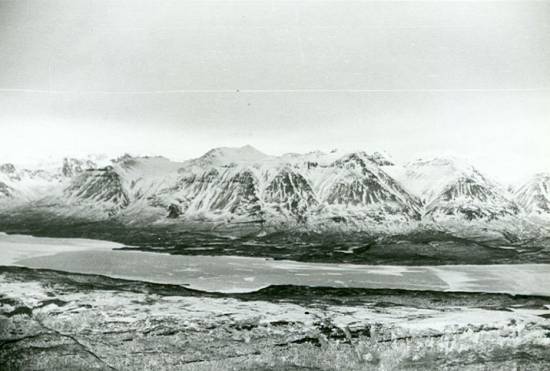 Lake Naknek and the Katmai National Park and Reserve 1949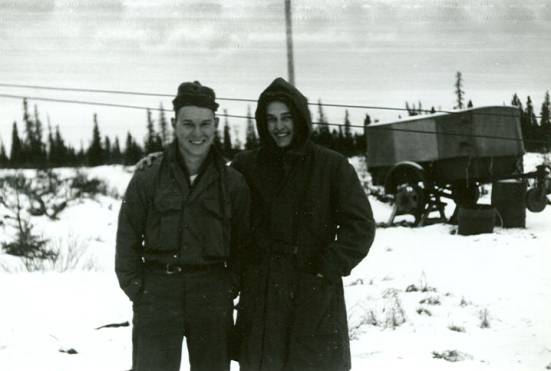 Cottongim and Sabolsky 1949-1950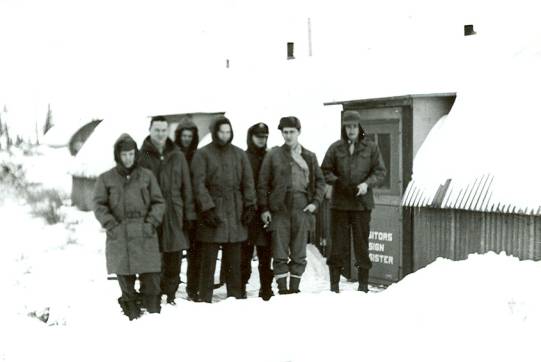 Scheelk, Cottongim, Tollefson, Fagala, Brown, Roduit and Garland
1949-1950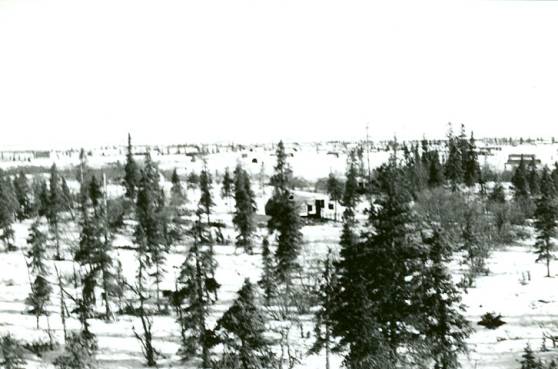 View of the Naknek AB "Tundra" and abandoned Quonset huts
In it's area. 1949-1950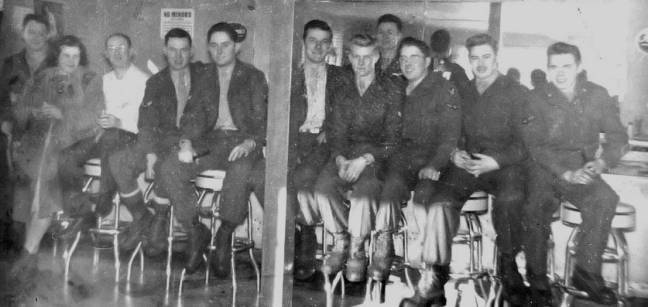 Howdy Bob,
Here is a photo sent to me by Gene O. Fagala's Mom, she read the history I gave you for the USAFSS Web Site and dug out this photo that Gene had taken. The names follow: Left to Right --- Proprietress and Proprietor of the establishment, Chet Cottingim, Clem Howard(D),
Rob't Roehrs(D), Glenn Tollefson(D), Morris, Don Scheelk, Baldwin(D), Rob't Brown.
The establishment was the one and only Bar available in the Village of Naknek and we had a nice lunch and a great visit with every one. Naknek is the village location on Bristol Bay about seven(7) miles down river from the base over the Tundra.. ... No road. MOE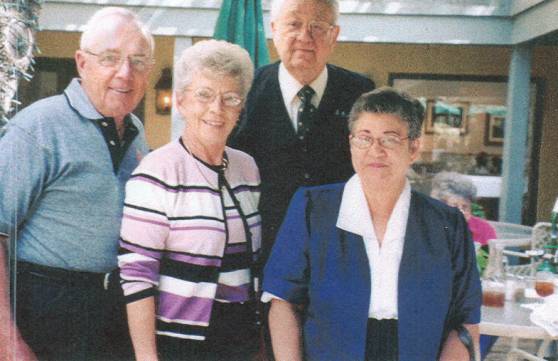 Donald Scheelk and wife,Lois. Bob Morris and wife, Barbara.
At the Los Patios restaurant in San Antonio, Texas. March, 2005.